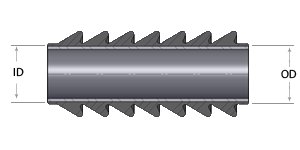 EMV Swab Cups (Light Load)
Swab cups exist in so many sizes and styles because the multiple forms of drilling and exploration in the oil and gas industry produce a wide variety of well conditions. Whatever your needs, however, you shouldn't be waiting too long or paying too much for quality swab cups and elements. Fortunately, when you choose Global Elastomeric Products, Inc. for your swab cup needs, you can count on excellent products, outstanding service and competitive pricing.
High-Quality EMV Swab Cups
Product Details and Uses
The EMV Swab Cup is a multi-lip, all rubber, light-duty swab cup. These high sand ratio swab cups are available with steel or aluminum inserts. The upward-facing lips are well suited for high ratios of suspended sand and are designed to dump excessive loads. Different compounds are available upon request.
Made from molds in a wide assortment of sizes and styles, our high-quality EMV swab cups are purposely designed to form excellent seals between themselves and the tubing/casing walls.
Standard sizes of our EMV swab cups range from 2 3/8" to 3 1/2", and if you don't find the size swab cup you need on our product pages, there's no need to worry. Our in-house design and engineering team has the skills and experience to custom make whatever size and style of swab cup your application calls for.
Compatible Light Load Swab Cups Replacement Solutions for:
SV Type
Type MV
BV Series

| | | | | | |
| --- | --- | --- | --- | --- | --- |
| Part No. | Type | WT/FT | Size | OD | ID |
| E8238EMVSC | EMV (High Sand Ratio) | 4.6-4.7# | 2 3/8" | 1.97" | 1.12" |
| E8278EMVSC | EMV (High Sand Ratio) | 6.4 - 6.5# | 2 7/8" | 2.42" | 1.37" |
| E8350EMVSC | EMV (High Sand Ratio) | 9.2# | 3 1/2" | 2.97" | 1.37" |
Dimensions are for reference only. Contact Global Elastomeric Products for details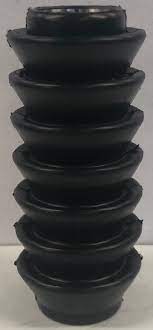 When you're looking for a cost-effective solution to your EMV swab cup needs, our more than five decades of experience providing oilfield and agricultural companies with rugged elastomeric products speaks for itself. We know intrinsically how to support the safety and productivity of your rigs and wells because our company was founded on that type of reliable service. It's also why as an American-based, privately-held company, we develop so many long-lasting relationships with our ever-growing list of customers.
Global Elastomeric Products, Inc. — American-Made Products at Competitive Prices


At Global Elastomeric Products, Inc., we've been manufacturing high-quality American-made products for the oil and gas industry since 1963. As an ISO 9001:2015-registered company, we strictly operate under stringent quality control processes to deliver defect-free products in the most timely manner possible.
For more information on our EMV swab cups, please contact us today.