Packer Elements And Valve Seals
Offering Custom Packer Element Needs
Packer elements are rubber seals that operate under specific down-hole conditions and provide an elastomeric seal for either short-term or long-term completion. Global Elastomeric Products/E.E. Embury has an expanding line of packer elements for your tool and well conditions. With the ever-increasing demands for stronger, more temperature resistant materials, Global continues to expand its line of products to include new design, stronger heat and chemical resistant compounds, along with the traditional elements that the Energy industry has grown accustomed to using. We're happy to accommodate feedthrough cup packer inquiries as well.

As a leading packer element distributor, Global has the ability to mold and manufacture any rubber compound. From traditional Nitrile and EPDM products, to your Viton's, Aflas, FKM's, our team has the knowledge and resources to manufacture any of your custom element needs.
Our selection of packer elements and valve seals includes:
Quality Packer Elements, Valve Seals and an Entire Elastomeric Product Line
There are few in the oil and gas industry who wouldn't agree with the fact that the days of easy oil extraction are over. In this new era, oil companies must strike a balance between running cost-efficient oilfields and rigs while choosing to utilize ever-more-expensive technology and equipment to extract the oil they're after. Of course, regardless of whether the industry finds itself in a downturn or growth cycle, lately there has been an overarching element that's been dominating the industry. The need to combine, if not increase, stable production along with worker safety has emerged as the golden rule of oil exploration and extraction.
It's why companies now more than ever need to count on the quality of every single piece of equipment and replacement part they invest in — and pay additional dollars to transport to their worksites. Consider the fact that recent industry reports reveal that a typical offshore oil platform with an estimated production life expectancy of 10 to 20 years will most likely incur a total operating cost in excess of $1 billion USD. When you stop to calculate its daily operating cost, that figure ranges somewhere between a low end of $100,000 to easily a high end of $300,000.
Benefits Of Choosing Global Valve Seals
So when you're under pressure to meet or exceed production quotas, the quality of everything you use — from packer elements and valve seals to pipe wipers and swab cups — is critical. Just like you need to count on the people you employ to get the job done right in a safe and effective manner, you also need to be able to count on an elastomeric product line and manufacturer that can produce defect-free parts and replacement parts in a timely and cost-efficient process.
After all, it's no secret that for those who choose to cut costs or take shortcuts and leave either their employees or their equipment at risk of accidents or extended breakdowns, the resulting damages can be far costlier to a company's bottom line than any anticipated savings.
Fortunately, when you decide to order from Global Elastomeric Products/E.E. Embury, you get much more than a quality product. Our in-house sales team has, collectively, more than 100 years of first-hand "Oil Patch" experience. This means that when you place your order, you're always talking to a professional who understands your operational needs and knows what's on the line for your team and your company.
And when you stop to think that the global annual price tag for the oil and gas industry on exploration and extraction tools, parts and equipment is estimated to be over $205 billion by 2020, you really cannot afford to work with a supplier who doesn't get what you're up against every day on the job.
Other Types of Packer Elements and Valve Seals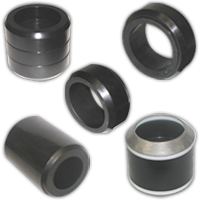 Amongst many types of products that we carry, the elastomeric piston seal, also known as the "Page-Style" seal has been manufactured at Global for years. You can find piston seals in hydraulic cylinder systems. A typical cylinder system contains grooves that enable the piston rings to form a tight seal against the cylinder bore, which prevents the leakage of hydraulic fluids.


Because of the wide range of sealing profiles and groove configurations in hydraulic equipment, it is necessary to choose the right elastomeric piston seals for your machinery and applications.
These piston ring seals come in a variety of sizes from 1-3/4" up to 3". We're sure to have the right product for your requirements. If you don't see it here, we can make it. Our design staff has the knowledge and experience necessary to help you get the product that you need.

Piston Seals From Global
Global Elastomeric Products has been providing reliable products to companies in the oilfield industry since 1963.
We're an American company based in Bakersfield, CA
that continues to remain at the forefront of oilfield industry product engineering and design. We offer a wide range of standard and custom products for well production and servicing.
Contact Global Today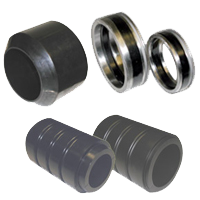 As an
ISO 9001:2015-registered
company, we adhere to the highest industry standards for quality and performance. As a privately held company that is large enough to meet any need yet small enough to do it quickly and effectively, we can provide a fast turnaround time for your project, regardless of size or scope. We also guarantee that our products are free of defects.
Discover the many benefits of piston seals from Global Elastomeric Products. Please feel free to give us a call or
contact us here
to learn more about piston seals. We'll also be happy to provide a no-obligation price quote for our piston seals and any of our products and services.

Contact Global for All Your Oil and Agricultural Elastomeric Product Needs
Since 1963, Global Elastomeric Products has been serving the needs of the oil and agricultural industries. Founded in Long Beach, CA, as E.E. Embury, Inc., the company formally changed its name to Global Elastomeric Products in 2001.
Headquartered today in Bakersfield, CA, Global Elastomeric Products is a U.S.-based packer element distributor that has been providing reliable, cost-effective oilfield product solutions for more than 50 years. We provide standard as well as custom designs and products for all types of well production and servicing applications. Call Global for your custom project and we can walk you through the design to manufacturing process. We'll also be happy to provide a no-obligation packer element quote.
Not the product you're looking for? Search Here: