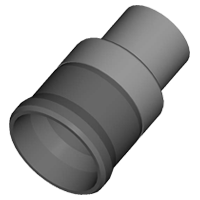 Threaded Cup Packer Units
Threaded Cup Packer Units
Global Elastomeric/E.E. Embury continues to maintain a diverse selection of quality oilfield products along with their threaded packer cups. Typically used for steaming applications, the threaded packer cup assemblies allow for easy installation anywhere along the tubing string. These cups are simple to use and redress and are proven in high-temperature steam applications around the world.

What Are Threaded Packer Cups?
A threaded packer cup is similar to a standard packer cup. The primary difference is the inclusion of an integrated threaded insert. This specially designed insert enables a fast and easy connection of a tool or assembly. Primarily used for low-pressure applications such as blocking off a water zone or steaming, a threaded packer cup is not intended for use in high-pressure wash processes.



| | |
| --- | --- |
| Size of Cup | Size of Mandrel |
| 4 1/2 | 2 3/8 |
| 5 1/2 | 2 3/8 & 2.875 |
| 6 5/8 | 2 7/8 |
| 7 | 2 7/8, 3 1/2 non upset NU, & 3 1/2 EUE |
| 8 5/8 | 2 7/8 & 3 1/2 EUE |
| 9 5/8 | 2 7/8, 3 1/2 non upset NU, 3 1/2 EUE, & 4 1/2 NU |
| 10 3/4 | 2 7/8 |
Dimensions are for reference only. Contact Global Elastomeric Products for details
Material:
Packer cup threads on the modified coupling
Single Basket insert
Box by Box Connection
Assemblies can be built with cups facing up, down, or opposing using pup joints
Available in 14/17#, 15/17#, or 17/23# casing weight range
Threaded Packer Cup Sizes and Materials
Our threaded packer cups come in a wide range of sizes and materials to meet your oilfield application needs. The threaded packer cups range from 3-1/2 to 10-3/4 and can be made in a variety of high-quality durable materials.

This enables you to choose the best product for your unique well conditions. If there is a size that is not listed, please give us a call.

We welcome custom threaded packer cup design requests. Our in-house engineering staff can design what you need.
The Global Elastomeric Difference
Global Elastomeric Products has been manufacturing the best quality oilfield products right here in the United States since 1963. Privately held, we have been able to excel in a market based on two facts: "We're large enough to handle any size rubber manufacturing need, but small enough to do it right!" As our company as grown throughout the years we have maintained a strong allegiance to our customers. We will walk you through each application to make sure that what you need is what you get.

In addition to helping you select the best product for your needs, we provide superior service to our customers in other ways. Our fast project turnaround times enable you to maintain your tight production schedules and minimize costly downtime. We also guarantee that your threaded packer cups will be free of defects. You can place your complete trust in Global Elastomeric Products to always provide a high-quality product at an affordable price. In short, our commitment to our customer and their needs is what sets us apart from our competitors.
For additional information on availability and exact design details, please contact Global Elastomeric Products. We'll also be happy to provide a no-obligation price quote.