Rubber
Oilfield Elastomeric Rubber Products
If you're looking for the best resource for high quality elastomeric rubber products, look no further than Global Elastomeric Products. Since 1963, we've been serving the needs of industrial and oilfield companies of all sizes. Our ability to deliver customized rubber product solutions also makes us the perfect choice for agricultural operations. As a privately owned company as opposed to a gigantic, faceless corporation, we place strong emphasis on serving our customers with speed, care, and efficiency. That's the Global Elastomeric Products difference.

Extensive Inventory of Rubber Packer Cups
Just because Global Elastomeric Products is not a mammoth corporation, it doesn't mean we offer a limited product selection. You can select from our extensive inventory of rubber packer cups and rubber packer cup units. And if you can't find what you need from our standard product inventory, it's not a problem. With our in-house engineering capabilities, we can design and implement customized cup packers, rubber replacement parts, or whatever else your needs may call for. Over our nearly five decades of operation, we've cultivated a reputation as an innovator when it comes to the design and development of state-of-the-art oilfield rubber products.

Benefits of Oilfield Rubber Products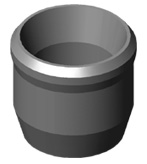 There are many benefits to using rubber packer cups from Global Elastomeric Products. We make our products from high-quality stripper rubber compounds that are tailored to your application needs can withstand high temperatures and high-pressure applications. They also offer valuable anti-vibration and anti-extrusion properties. Our elastomeric rubber products are resistant to abrasions and high-compression forces. Depending on your requirements and applications, you can choose oilfield rubber products that range from a low to high coefficient of friction.

High Standards for Quality
At Global Elastomeric Products, we maintain strict policies to ensure we are producing cup packer rubber products of the highest caliber. As an ISO 9001:2008 registered company, we've demonstrated our commitment to meeting the highest national industry standards for quality. In fact, we're so confident in our quality assurance process that we guarantee none of our products will contain any manufacturing defects. When coupled with our customer-focused business approach, we strongly believe that Global Elastomeric Products is the only company you'll need for all your elastomeric rubber product needs. Contact us today for a free quote to learn more about our elastomeric rubber and cup packer rubber products.

We Place a Strong Emphasis on Customer Satisfaction
Global Elastomeric Products always makes serving customers our top priority. We can handle elastomeric rubber projects of all types and sizes. We offer fast turnaround times for all of our cup packer projects, as well as customized designs that can meet your unique project requirements. Our competitive pricing comes with a no-obligation price quote that doesn't include hidden fees or upcharges.
Contact us today for a free quote to learn more about our elastomeric rubber and cup packer rubber products.