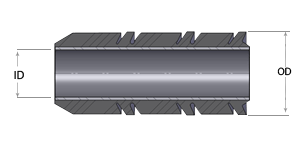 ETA Swab Cups (Light-Medium Load)
Maybe you've been paying too much for swab cups that don't last long in the field. Or, perhaps you've grown frustrated by the use of poor-quality swab cups causing costly delays on your wells and rigs. Whatever the reason, if you're looking for high-quality ETA swab cups, it's time to choose Global Elastomeric Products, Inc. as your rubber molding product supplier.
After five decades of providing abrasion- and tear-resistant swab cups to oilfield and agricultural applications, we know a thing or two about supporting safe, productive working environments through cost-effective elastomeric products. It's why over the course of our company's history, we've developed so many longstanding relationships with our growing list of pleased customers.


High-Quality ETA Swab Cup Product Details


The ETA Swab Cup is a light to medium load swab cup. The swab cup has two different size lips. 3 thin lips across the swab cup act as the load-bearing lip, while the 3 heavy sections of the swab cup act as the support for the thin lip.
Our light to medium load swab cups are compatible solutions for:
Type TA
RTL & RTLU Type
BX Series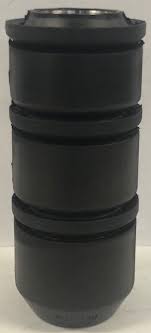 ETA Swab Cup Manufacturing Options


Our ETA swab cups are produced from molds in various designs and styles to form solid seals between the walls of tubings or casings and the swabs themselves.
In addition, our ETA swab cups can be manufactured with the option of having aluminum and steel inserts, as well as different compounds.
Standard ETA swab cup sizes range from 2 3/8" up to 3 1/2". If you can't find the swab cup you need on our product pages, don't give up. Our in-house engineering team has all the experience necessary to custom mold whatever size and style of swab cup your application requires.


Global Elastomeric Products, Inc. — Your Trusted Swab Cup Supplier


Since 1963, our team at Global Elastomeric Products, Inc. has been known for manufacturing high-quality standard and custom molded swab cups. As an ISO 9001:2015-registered company, we only operate with the strictest quality control processes, so you can count on products that are delivered on time and free of defects.
Ready to learn more about our ETA swab cups? Receive a no-obligation quote when you contact us today.
| | | | | | |
| --- | --- | --- | --- | --- | --- |
| Part No. | Type | WT/FT | Size | OD | ID |
| E8238ETASC | ETA | 4.6-4.7# | 2 3/8" | 1.96" | 1.12" |
| E8U238TASC - Undersize | ETA | 4.7# | 2 3/8" | 1.93" | 1.12" |
| E8278ETASC | ETA | 6.4 - 6.5# | 2 7/8" | 2.41" | 1.37" |
| E8U278ETASC - Undersize | ETA | 6.5# | 2 7/8" | 2.36" | 1.37" |
| E8350ETASC | ETA | 9.2# | 3 1/2" | 2.94" | 1.37" |
Dimensions are for reference only. Contact Global Elastomeric Products for details