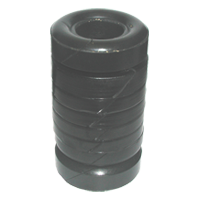 High Temp Crown Ring Packing
Why Crown Ring Packing Is Important
Crown packing allows sealing on polish rod and ID of the box without extensive tightening. For years, these crown polishing rings have been used for long stroke pumping unit applications with a high degree of success.
In addition, in highly pressurized oilfield environments, our crown rings tend to last longer and perform better than many of our competitors' lesser made products. Add to that our great prices and quick turnaround times on all orders, and you can see why choosing Global Elastomeric Products, Inc. for your crown ring packing needs is such a prudent choice.



| | |
| --- | --- |
| Part Number | Description |
| E78520AR1125XY | WIPER,POLISH ROD SET 1 1/8" |
| E78520AR1250XY | WIPER,POLISH ROD SET 1 1/4" |
Dimensions are for reference only. Contact Global Elastomeric Products for details
Crown Ring Packing — High Temp Options


For difficult applications – such as high concentrations of H2S, or higher temperatures – HNBR / HSN is available. This product has proven effective in various fields with diverse conditions throughout the world.
Our brass impregnated elastomeric crown rings operate in temperatures of up to 250°F. For short durations, they'll even work at temperatures of up to 275°F.


High-Quality Crown Polishing Rings


Our crown rings are 100 percent American-made from high-quality abrasion-resistant materials that can withstand damage and wear from gas, oil, mud and other liquids.
What's more — our total focus on manufacturing rubber molding products for oilfield use means that when you choose Global Elastomeric Products, Inc., you can count on our more than 100 years of combined oil patch experience to supply you with defect-free products.
If you don't find the right crown ring for your needs on our website, our in-house design and engineering capabilities can produce custom molding products at your request.


Global Elastomeric Products, Inc. — More Than 50 Years of Oil Industry Experience


At Global Elastomeric Products, Inc., we've been providing cost-effective rubber molding solutions for the oil and gas industry since 1963. Throughout that time, we've made it our job to place as much importance on our manufacturing skills as we do on our customer service — which results in our customers receiving both the high-quality products and attention they deserve.
Plus, as an ISO 9001:2015-registered company, we implement the strictest quality control processes possible to ensure you always receive products that are free of imperfections and defects.
Contact us to learn more about our crown rings and to receive a no-obligation price quote.



Material specs:
Brass is high temp – Good up to 250°F (short durations to 275°F)
Can be manufactured with or without brass
NBR material
Tensile strength – 2000 min
Elongation – 125% min
Specific Gravity – 1.25
Available In:
Available in 1-1/8", 1-1/4"