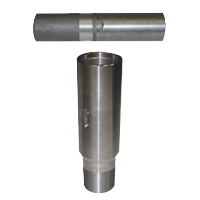 Shear Out Joints
Global Elastomeric Products is an industry leader when it comes to the design and manufacturing of shear joints. The simple design provides a reliable and inexpensive way for straight/pull emergency shear release. Non-rotating design assures no damage will be done to shear pin during installation of the shear coupling – guarantees shear values.

Our selection of oil shearout joints includes shear out safety joints and tubing shear joints in a wide assortment of sizes. If you can't find the exact product you're looking for, just let us know. Our in-house design engineer can create a custom shear out joint design that meets your exact specifications.


Superior Quality and Unmatched Customer Service

At Global Elastomeric Products, we take the quality of our shear out joints seriously. As an ISO 9001:2015-registerd company that's been in business for more than 50 years, we go to great lengths to ensure our products meet the highest quality standards. We even guarantee that your shear out joints will be free of defects. We're a privately held company that applies the same quality standards to small and large projects alike. And nobody in our industry tops Global Elastomeric Products when it comes to customer service.


Contact Global Today

Learn more about the many benefits our shear out joints have to offer. We can also provide a no-obligation price quote.




| | | |
| --- | --- | --- |
| Part No. | Size | |
| E904NSJ07518000 | SAFETY JOINT,3/4" 18,000# | Non Rotating |
| E904NSJ07520000 | SAFETY JOINT,3/4" 20,000# | Non Rotating |
| E904NSJ07522500 | SAFETY JOINT,3/4" 22,500# | Non Rotating |
| E904NSJ08752000 | SAFETY JOINT,7/8" 20,000# | Non Rotating |
| E904NSJ08752400 | SAFETY JOINT,7/8" 24,000# | Non Rotating |
| E904NSJ08752600 | SAFETY JOINT,7/8" 26,000# | Non Rotating |
| E904NSJ10020000 | SAFETY JOINT,1" 20,000# | Non Rotating |
| E904SJ07520SRCP | SAFETY JOINT,3/4" 20,000 | SUCKER ROD COUPLING |
| E904SJ075SRCOUP | SAFETY JOINT,3/4" 18,000 | SUCKER ROD COUPLING |
| E904SJ0875SRCUP | SAFETY JOINT,7/8" 20,000# | SUCKER ROD COUPLING |
| E904SJ100SRCOUP | SAFETY JOINT,1" 20,000# | SUCKER ROD COUPLING |
| E904SSJ07518000 | SAFETY JOINT,3/4" 18,000# | ROTATING |
| E904SSJ07520000 | SAFETY JOINT,3/4" 20,000# | ROTATING |
| E904SSJ08752000 | SAFETY JOINT,7/8" 20,000# | ROTATING |
| E904SSJ10020000 | SAFETY JOINT,1" 20,000# | ROTATING |
Dimensions are for reference only. Contact Global Elastomeric Products for details
| | |
| --- | --- |
| Part No. | Size |
| E904TBGSJ238 | 2-3/8" Tubing Shear Joint |
| E904TBGSJ278 | 2-7/8" Tubing Shear Joint |
| E904TBGSJ350 | 3-1/2" Tubing Shear Joint |
Dimensions are for reference only. Contact Global Elastomeric Products for details
Available In:
3/4"
7/8"
1"
Brass Shear Pin available in 18,000#, 20,000# and 26,000# shear values