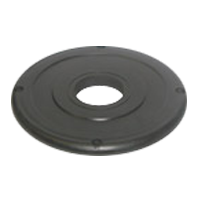 Pipe Wipers, Drill Pipe Wipers for Oilfield
Pipe Wipers Use
Pipe wipers are normally placed around the exterior of oilfield pipes and drill rods. The primary purpose of single pipe wipers is to help eliminate dirt, mud and other debris, which makes the pipe safer and easier to handle while keeping the oil rig floor clean. This protects oil rig personnel as well as the drilling equipment they depend upon in their day-to-day work. Drill pipe wipers are typically manufactured with debris-resistant rubber compounds that can withstand even the harshest rigors of oilfield operations.

| | |
| --- | --- |
| Part # | Size |
| E79ESRL1250V | 1 1/4" |
| E79ESRL1500V | 1 1/2" |
| E79ESRL2375V | 2 3/8" |
| E79ESRL2875V | 2 7/8" |
| E79ESRL3500V | 3 1/2" |
Dimensions are for reference only. Contact Global Elastomeric Products for details
| | |
| --- | --- |
| Part # | Size |
| Coming soon... | |
Dimensions are for reference only. Contact Global Elastomeric Products for details
Quality Pipe Wiper Rubbers


Because pipe wiper use is so specialized, at Global Elastomeric Products/ E.E. Embury, we offer a variety of rubber pipe wipers in several different compounds and durometers for your pipeline fittings — including gasket ring joints, ring gaskets, dual split wipers, flat pipe wipers and more. From 6"- 20", the pipe wipers are used to wipe off different sizes of casing, tubing, etc.

We strictly employ the use of high-quality pipe wiper rubber in our manufacturing process to ensure reliable, long-term performance in even the most demanding work environments. The bottom line is that when your performance is tied to your equipment's safe and proper operation, you want Global Elastomeric Products/E.E. Embury supplying your pipe wiper, elastomeric rubber and industrial oil product needs.


Pipe Wiper Features
Remove fluids and debris from pipes
Helps cover the annulus between the tubing and casing
Reduces fluid spillage on the rig floor
Steel ring molded in place for added support
Typical Applications
Drilling rig
Workover rig
Swabbing unit
Pipe Wipers: Part of the Elastomeric Product Line


When you choose to order pipe wipers from us — from single solid wipers to split type wipers — you've got the full attention of our sales team that has well over 100 years of combined hands-on "Oil Patch" experience. This means that along with a defect-free, American-made product, you can also count on unparalleled customer support, because we appreciate what your job entails.
That's why we do everything in our power to ensure not just the reliability of our products, but also the swift delivery of every order we take, since we know that any hold-ups in processing or delivery can adversely impact our customers' ability to do their jobs in a highly competitive industry.
What's more, with our in-house engineering and design capabilities, we have the ability to carry out any custom molding requests you might have. We're able to deliver quicker service, cost savings and highly-specialized elastomeric products to oilfield professionals, as well as our growing field of agricultural customers. In other words, if you have the need for a cost-effective, custom rubber product in your industry, we have the experience and talent to listen to your needs right from the earliest stage of its conception and deliver a solution that's on time, within your budget and serves your purpose without any defects in its material or manufacture.
In addition to our wide selection of drill pipe wipers, our line includes the following made-in-America elastomeric and related products:
- Bop seals
- Check valves
- Collars and plugs
- Cup packer units
- Drilling machine parts
- Molded swab cups
- Oil packer cups
- Packer elements, replacement parts and valve seals
- Rubber products for agricultural applications
- Stripper rubbers
- Stuffing box rubbers
- Swab cups

Don't see what you're looking for? Don't worry. Just contact us and we'll be happy to listen to your needs. Remember that we've earned the trust of those in the oil and agricultural industries by avoiding second-rate, off-the-shelf solutions whenever a custom product is what's required to get the job done right.


50 Years of Oil Industry Experience


Global Elastomeric Products has been in business since 1963. Founded in Long Beach, CA, as E.E. Embury, Inc., the company's corporate name was changed to Global Elastomeric Products, Inc. in June 2001.
Furthermore, beyond supplying simply great products in the most cost-effective manner possible, we guarantee that all of our products are free of defects. Contact us today to learn more about pipe wipers and ring gaskets and receive a no-obligation price quote.