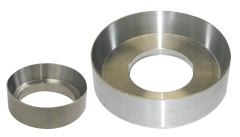 Packer Cup Thimbles
The packer cup is a value proven tool for the completion and production of oil and gas. It's cost-effective design and utilization makes it a great and inexpensive component in well servicing for service and tooling companies.
Thimbles Reinforce Packer Cup Integrity & Seal
Another very important portion of the packer cup is the use of a thimble. The thimble is used to help reinforce a cup and to help it maintains its form and seal. It is absolutely critical that you have the right thimble for the cup. That is why we recommend that if you use a Global EEE cup, you also use a Global EEE thimble.



| | |
| --- | --- |
| Part No. | Size |
| E909T0200109 | 2" x 1 3/32" |
| E909T02501375 | 2 1/2" x 1 3/8" |
| E909T0350134S | 3 1/2" x 1 1/3" |
| E909T03501341 | 3 1/2" x 1 1/3" |
| E909T0350193 | 3 1/2" x 1 7/8" |
| E909T0350193S | 3 1/2 x 1 7/8" |
| E909T0400193 | 4" x 1 7/8" |
| E909T0450241 | 4 1/2" x 2 3/8" |
| E909T04502440 | 4 1/2" x " |
| E909T0500241 | 5" x 2 3/8" |
| E909T0550291 | 5 1/2" x 2 7/8" |
| E909T0550291LT | 5 1/2 x 2 7/8" |
| E909T0658291 | 6 5/8" x 2 7/8" |
| E909T0658353 | 6 5/8" x 3 1/2" |
| E909T0658353SPE | 6 5/8 x 3 1/2" |
| E909T0700291 | 7" x 2 7/8" |
| E909T0700353 | 7" x 3 1/2" |
| E909T0758353 | 7 5/8" x 3 1/2" |
| E909T0858353 | 8 5/8" x 3 1/2" |
| E909T0858453 | 8 5/8" x 4 1/2" |
| E909T0958353 | 9 5/8" x 3 1/2" |
| E909T09581453 | 9 5/8" x 4 1/2" |
| E909T10750353 | 10 3/4" x 3 1/2" |
| E909T10750453 | 10 3/4" x 4 1/2" |
| E909T11750353 | 11 3/4" x 3 1/2" |
| E909T11750453 | 11 3/4" x 4 1/2" |
| E909T1338453 | 13 3/8" x 4 1/2" |
Dimensions are for reference only. Contact Global Elastomeric Products for details