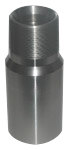 Check Valves for Backflow Protection
Ball Bearing Check Valves
Along with meeting productivity quotas, there's probably nothing as important in the oil and gas industry as the safety and overall cleanliness of rigs and wells. Let's face it — workers get injured less and accomplish more when the areas they're working in are properly controlled and up to all related oil industry standards and regulations. Nowhere is this more significant than in the control your crews have over the fluids they're pumping — either out of or into the ground.
For this reason, at Global Elastomeric Products, Inc., we're proud to offer oilfield workers the confidence they deserve on the job by supplying your company with high-quality ball bearing check valves. These well-manufactured devices allow fluid under pressure to flow in only one direction. Throughout their use in oil and gas applications, check valves operate as critical safety and control devices.

| | |
| --- | --- |
| Part No. | Size |
| E904CV2375 | 2 3/8" |
| E904CV2875 | 2 7/8" |
| E904CV350 | 3 1/2" |
Dimensions are for reference only. Contact Global Elastomeric Products for details
Because of their importance, check valves must be made to perform well. Of course, this is just another reason why you can trust us to be your one-stop oilfield equipment supplier. We've been providing high-quality rubber molding and drilling machine parts to the oil and gas industry — like ball bearing check valves — since 1963.
Because we're an ISO 9001:2015-registered company, our quality control processes are some of the strictest in the business. The bottom line is that you can trust us to deliver defect-free products in a timely and cost-effective manner — whenever and wherever you need them.


High-Quality Ball Bearing Check Valves


Global Elastomeric Products, Inc. has all of the ball bearing check valves you need. They're used as any other valve to allow for fluid or pressure to act in one direction only. Threaded onto tubing the check valve allows for fluids, etc. to be pumped in preventing the occurrence of back flow.
Our ball bearing check valves are available in standard sizes ranging from 2 3/8" to 3 1/2". And because we make them here in the USA from high-quality materials — like all of our oilfield products — you can count on their excellent performance. In addition, we can manufacture them out of the materials of your choosing upon request.


Global Elastomeric Products, Inc. — Always Focused on Your Needs


Global EEE was founded on the premise that we can provide superior parts and service to the oil and gas industry. That's why we're confident you'll be pleased when you choose us as your check valve supplier. Our sales team has more than 100 combined years of "Oil Patch" experience, so you can always count on our insights and advice to be spot on.
Ready to learn more about our high-quality ball bearing check valves? Contact us for your no-obligation.



Materials:
Available in additional materials upon request