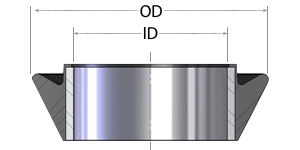 Single V Swab Cups (Sand Cup, Light Load)
Are you frustrated by poor-quality swab cups that lead to more delays and problems than solutions? Do you find you're paying too much for swab cups that aren't up to the tasks they're supposed to perform? If you answered "yes" to either question, let Global Elastomeric Products, Inc. solve your problems by providing you with rugged, reliable and, above all, cost-effective rubber molding products — like our Single V swab cups.
Because today's many forms of drilling and exploration result in a wide range of well conditions, swab cups need to be made in an assortment of shapes, styles and sizes. So, when you're in the market for an economical solution to your Single V swab cup needs, our more than 50 years of experience supplying the oil and gas industry with high-quality elastomeric products can't be overlooked.
Single V Swab Cup Product Details
The Single V Swab Cup is a single lip, all rubber swab cup with steel insert.
Compatible Sand Cups Replacement Solutions for:
Sand Devil
Type V
RV Series
Type SV

| | | | | |
| --- | --- | --- | --- | --- |
| Part No. | Type | Size | OD | ID |
| E8SDSCG450555 | Sand Cup | 4 1/2" | 4.06" | 2.49" |
| E8SDSCG550555 | Sand Cup | 5 1/2" | 4.97" | 2.49" |
| E8SDSCG700555 | Sand Cup | 7" | 6.47" | 3.53" |
Dimensions are for reference only. Contact Global Elastomeric Products for details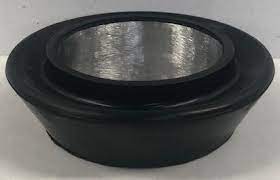 Common Uses for Single V Swab Cups
Ideal for light loads and automatically dumps excess loads. Single unit packaging allows the end-user to vary the number of swab cups to meet each condition for each job. Different compounds are available upon request.
Along with our all-rubber Single V swab cups, we offer the following selection of abrasion-resistant swap cup products:
EM swab cups: Offer superior lifting capacity and an extended product lifespan
EW swab cups: Made of a proprietary high-tear compound for extra strength under all loads
ETA swab cups: Made with three load-bearing lips and corresponding sections for enhanced support
EMV swab cups: Excellent for light-duty tasks and available with optional steel or aluminum inserts
Casing swab cups: A swab cup made for heavy-duty lifting — even at substantial depths
We support the productivity and safety of your rigs and workers because we understand the type of goods and services you need to be effective and meet your production quotas. It's just another reason why as a privately-held, American-based company, we regularly develop such long-lasting relationships with so many of our customers.

Global Elastomeric Products, Inc. for Service and Products You Can Trust


Since 1963, we've been manufacturing high-quality, cost-effective rubber molding products for oilfield and agricultural applications. We're an ISO 9001:2015-registered company, which means we always adhere to stringent quality control processes. The end result: You can trust our products to be delivered defect-free when and where you need them.
For more information about our Single V swab cups and the rest of our elastomeric line, please contact us