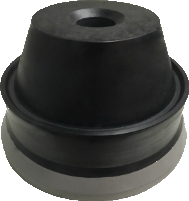 Washington-Style (WS) Stripper Rubber
Replacement Stripper Rubbers for Rotating Control Heads
The Washington-Style (WS) Stripper Rubber is used to seal on the tubing string. The general purpose of using the stripper rubber is to strip tubing and maintain a clean working environment while working in, pulling out or rotating low and high pressure control heads. Made from a very elastic abrasion-resistant rubber compound, these stripper rubbers are quality rubber molding products that are manufactured to last!
The WS stripper rubber is available in two sizes: 2-3/8" and 2-7/8". If you need a different size or have a specific design preference, just let us know. Our experienced staff and engineering team will work with you to develop custom stripper rubbers that meet your specific needs and requirements, including the aftermarket replacement for Washington style stripper rubbers.
As with all Global Elastomeric/E.E. Embury products, our Washington style stripper rubbers are designed with personnel and equipment safety in mind. That's why all of our rubber molding products for the oil industry, as well as for agricultural applications, are manufactured for maximum reliability and durability. In addition, every one of our elastomeric rubber products comes with the guarantee that each unit will be free of material and manufacturing defects. For flexibility, performance and all-around trustworthiness, you can always count on our American-made product line to excel.

| | |
| --- | --- |
| Part # | Size |
| E3WSR23856 | 2 3/8" |
| E3WSR28756 | 2 7/8" |
WS Stripper Rubbers, Oil Industry Drilling Machine Parts and the Entire Elastomeric Product Line
When you place an order for Washington style stripper rubbers or anything else from our elastomeric product line, you get the dedicated attention of our sales team that combined possesses well over 100 years of hands-on "Oil Patch" experience. This is important because it means that in addition to getting a defect-free, American-made product, you also receive unrivaled customer support, because we appreciate and understand every aspect and challenge of your job.
It's also why we do everything we can to ensure not just the dependability of our products but also the timely delivery of your order from the moment we receive it. We are well aware that any delays in processing, handling or delivering your order can negatively impact your production capabilities in what is arguably one of the most competitive industries on the planet.
In addition, our in-house design and engineering abilities mean we have the capability to fulfill just about any custom stripper rubber or other elastomeric product request you may have. With that type of experience and expertise all under one roof, you get faster service, bigger cost savings and highly-customized elastomeric products to your oilfield or agricultural site in time to make a difference to your bottom line.
So, if you require a cost-effective, custom rubber product solution in your business, we have the skill and expertise to listen to your needs right from the early concept stage and quickly deliver a product that fits within your budgetary constraints and serves its purpose without any material defects.
In addition to our wide selection of WS stripper rubbers, our parts and product line includes the following American-made elastomeric and related items:
Bop seals

Check valves

Collars and plugs

Cup packer units

Drilling machine parts

Molded swab cups

Oil packer cups

Packer elements, replacement parts and valve seals

Pipe wipers

Rubber products for agricultural applications

Stuffing box rubbers


Swab cups
And if you don't see what you need, don't worry! Simply contact us and we'll be happy to discuss your needs. Remember that for over 50 years, we've been a leader in supplying parts to the oil and agricultural industries by knowing how to deliver standard and custom equipment that gets the job done right every time.
Rubber Molding Products Made in the U.S.A.
Global Elastomeric Products is proud to be an American company. We manufacture all our products in our Bakersfield, CA, production facility.
We're also proud of our commitment to quality. We implement the most stringent quality control measures to ensure our products are free of defects. It's also why we voluntarily register with the International Organization for Standardization (ISO) — the world's largest international standards organization — as an ISO 9001:2015-registered company, meaning we maintain rigorous manufacturing and service standards.
We're large enough to meet any production need yet small enough to provide the high level of service our customers demand. And with our fast turnaround times, you can receive your stripper rubbers quickly to minimize any disruptions to your production schedule.
Contact Global Elastomeric Products today for more information about our WS rubber product line. We'll also be happy to provide a no-obligation price quote.