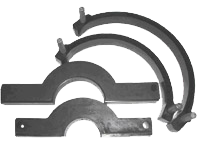 Blowout Preventers Seals — BOP Seals
Whether it's on a land well, an offshore rig or a subsea well, a blowout — or an uncontrolled release of gas and/or crude oil from an excavation site — is something to avoid at all costs. Starting in 1963, we at Global Elastomeric Products, Inc., have more than 50 of experience providing the oilfield industry with high-quality industrial rubber products — like rubber BOP seals — that make us a leader among blowout preventer manufacturers.
With the help of blowout preventer seals, a well can be safely sealed off when needed. Safety is a priority to anyone working on a rig, which is why the selection of a quality blowout preventer packing seal is imperative. Global EEE offers a broad range of blowout prevention seals, also known as BOP seals. We offer BOP seals in sizes ranging from 7" top seals to 9" x 3 1/2".
| | |
| --- | --- |
| Part No. | Size |
| E901TS700TRR18 | 7" Top Seal |
| E901T700238RR18 | 7" x CSO |
| E901T700238RR18 | 7" x 2 3/8" |
| E901T700278RR18 | 7" x 2 7/8" |
| E901T700350RR18 | 7" x 3 1/2" |
| E901TS900TRR18 | 9" Top Seal |
| E901T900CSORR18 | 9" x CSO |
| E901T900238RR18 | 9" x 2 3/8" |
| E901T900278RR18 | 9" x 2 7/8" |
| E901T900350RR18 | 9" x 3 1/2" |
Dimensions are for reference only. Contact Global Elastomeric Products for details
High-Quality BOP Seals

Because of their paramount importance in ensuring the safety of your oilfield workers, it is imperative to choose BOP top seals of the highest quality. We manufacture our BOP seals from superior materials to meet the most stringent quality standards. As an ISO 9001:2015-registered company, we're committed to making quality our top priority. We also guarantee that our BOP seals are free of defects. You can use them with total confidence in your oilfield operation.


Customer-Focused Oilfield Products Supplier


Global Elastomeric Products also places a strong emphasis on customer service. We're a privately held U.S.-based company that is large enough to meet any product requirement, yet small enough to give our customers the attention they deserve. Our fast turnaround times enable you to keep your production schedules on track.

For more information or answers to any questions about our rugged, well-designed BOP seals — as well as our full line of high-quality molding products for the oil industry — please contact us today.
Learn More Today
Give us a call and we can discuss your application needs. We can also provide a no-obligation quote.