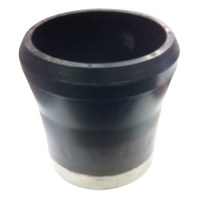 Gas Vent Cups
Gas Vent Cup Uses
The Gas Vent cup was developed to isolate casing leaks in pumping or injection wells. This cup helps to prevent the trapping of gas by allowing gas to vent to the surface past damaged zones.
Gas Vent Cup Solutions
It is an inexpensive and reliable method of isolating leaking zones.
| | |
| --- | --- |
| E104501CGV291XY | 4 1/2" X 2.91"9.5/11.6# WITH HEAT TREATED BASKET |
| E104501CGV303XY | 4 1/2" X 3.03" 9.5/11.6# WITH HEAT TREATED BASKET |
| E105501CGV378XY | 5 1/2" X 3.78" 14/17# WITH HEAT TREATED BASKET |
| E105502CGV378XY | 5 1/2" X 3.78" 17/23# WITH HEAT TREATED BASKET |
| E105503CGV378XY | 5 1/2" X 3.78" 17/23# WITH HEAT TREATED BASKET |
| E105504GV353XY | 5 1/2" X 3.53" 17/20# WITH HEAT TREATED BASKET |
| E105505GV378XY | 5 1/2" X 3.78" 20/23# WITH HEAT TREATED BASKET |
| E107002CGV378XY | 7" X 3.78" 17/23# WITH HEAT TREATED BASKET |
| E107002GV403XY | 7" X 4.03" 17/23# WITH HEAT TREATED BASKET |
| E107004GV403XY | 7" X 4.03" 22/26# WITH HEAT TREATED BASKET |
Dimensions are for reference only. Contact Global Elastomeric Products for details