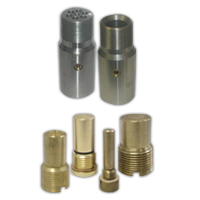 Knock Out Collars & Plugs
Replacement Knockout Collars & Plugs
Knock out collars are used to balance fluid levels within the tubing strings. They allow for the releasing/non releasing of fluid within the string. A plug is just that, a plug within the K-O Collar. Our knock-out collars come with and without special stops.
For Use With Or Without The Included Special Stops
When a foreman would like to release fluids from the tubing string they will send a bar through the string that will punch the plug from the collar. Knock out collars with special stops allow you to catch the bar as it descends through the collar. A Knock out without the special stop will allow the bar to shoot straight through the collar and further into the tubing string.

Available:
With and without special stops
Materials:
Additional materials available upon request
| | |
| --- | --- |
| Part No. | Size |
| E904238DP | 2 3/8" |
| E904238DPSPEC | 2 3/8" w/ Special Stop |
| E904278DP | 2 7/8" |
| E904278DPSPEC | 2 7/8" w/ Special Stop |
| E904350DP | 3 1/2" |
| E904350DPSPEC | 3 1/2" w/ Special Stop |
Dimensions are for reference only. Additional materials available upon request. Contact Global Elastomeric Products for details
| | |
| --- | --- |
| Part No. | Size |
| E904025KOP | 1/4" Brass |
| E904075KOP | 3/4" Brass |
| E904100KOP | 1" Brass |
Dimensions are for reference only. Contact Global Elastomeric Products for details