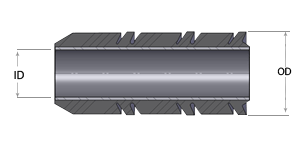 ETA Swab Cups
ETA Swab Cups Product Details
The ETA Swab Cup is a light to medium load swab cup. The swab cup has two different size lips. 3 thin lips across the swab cup act as the load bearing lip, while the 3 heavy sections of the swab cup act as the support for the thin lip.
ETA Swab Cup Manufacturing Options
These are available in aluminum and steel inserts as well as different compounds.
| | | | | | |
| --- | --- | --- | --- | --- | --- |
| Part No. | Type | WT/FT | Size | OD | ID |
| E8238ETASC | ETA | 4.6-4.7# | 2 3/8" | 1.96" | 1.12" |
| E8U238TASC - Undersize | ETA | 4.7# | 2 3/8" | 1.93" | 1.12" |
| E8278ETASC | ETA | 6.4 - 6.5# | 2 7/8" | 2.41" | 1.37" |
| E8U278ETASC - Undersize | ETA | 6.5# | 2 7/8" | 2.36" | 1.37" |
| E8350ETASC | ETA | 9.2# | 3 1/2" | 2.94" | 1.37" |
Dimensions are for reference only. Contact Global Elastomeric Products for details