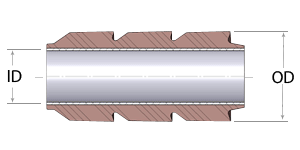 EM Swab Cups
Durable EM Swab Cups
The EM Swab Cup is a heavy load swab cup. The 3 heavy duty sections are designed for long life and maximum lifting capacity. The special compound has extremely high strength and is specifically compounded for heavy load and deep swabbing conditions.
EM Swab Cup Manufacturing Options
Steel inserts are standard, but the EM can also be manufactured with an aluminum insert.
| | | | | | | |
| --- | --- | --- | --- | --- | --- | --- |
| Part No. | Type | WT/FT | Size | OD | | ID |
| E8238EMSC | EM | 4.6 - 4.7# | 2 3/8" | 1.95" | | 1.12" |
| E8U238EMSC | EMU | 4.7# | 2 3/8" | 1.93" | | 1.12" |
| E8278EMSC | EM | 6.4 - 6.5# | 2 7/8" | 2.39" | | 1.37" |
| E8U238EMSC | EMU | 6.5# | 2 7/8" | 2.35" | | 1.37" |
| E9182M7ALSWAB | EMU | 7.9# | 2 7/8" | 2.24" | | 1.37" |
| E9182M6ALSWAB | EMU | 8.7# | 2 7/8" | 2.17" | | 1.37 |
| E8350EMSC | EM | 9.2# | 3 1/2" | 2.92" | | 1.37" |
Dimensions are for reference only. Contact Global Elastomeric Products for details