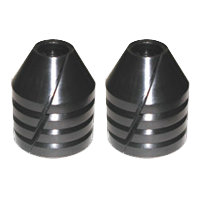 Cone Packing
High Temp Cones For Packing Oilfield Stuffing Boxes
Cone Packing, Hi Temp with brass has successfully been used in the Kern River Oilfields for over 15 years. We are told the operating temperatures in which this packing is used range between 220 and 350 degrees F. We utilize a high grade Nitrile synthetic rubber compound, with or without brass.
Cone Packing Element Product Offering
Browse our selection of Hi-Temp Brass, Teflon, Solid & Hollow Cone Packing Elements below. If you do not see what you're in need of, please contact us to talk in more detail about your application and needs.
This product has been proven effective in various fields with diverse conditions throughout the world. Contact Global Elastomeric Products today for more information or to purchase cone packing elements.



Material specs:
NBR material
Tensile strength – 2000 min
Elongation – 125% min
Specific Gravity – 1.25
Available In:
5 pack (4 top and 1 bottom) and 6 pack (4 top and 2 bottom)
1-1/8", 1-1/4", 1–1/2"
| | |
| --- | --- |
| Part No. | Size |
| E902BCP112504 | 1 1/8" 4PK or 6PK |
| E902BCP12504 | 1 1/4" 4PK or 6PK |
| E902BCP150004 | 1 1/2" 4PK or 6PK |
Dimensions are for reference only. Contact Global Elastomeric Products for details
| | |
| --- | --- |
| Part No. | Size |
| E902CPN1125 | 1 1/8" 4PK or 6PK |
| E902CPN1250 | 1 1/4" 4PK or 6PK |
| E902CPN1500 | 1 1/2" 4PK or 6PK |
Dimensions are for reference only. Contact Global Elastomeric Products for details
| | |
| --- | --- |
| Part No. | Size |
| CPBH-1250 | 1 1/4" 4PK or 6PK |
| CPBH-1500 | 1 1/2" 4PK or 6PK |
Dimensions are for reference only. Contact Global Elastomeric Products for details
| | |
| --- | --- |
| Part No. | Size |
| CPBS-1250 | 1 1/4" 4PK or 6PK |
| CPBS-1500 | 1 1/2" 4PK or 6PK |
Dimensions are for reference only. Contact Global Elastomeric Products for details