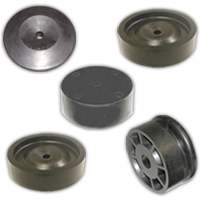 Rod Stripper Rubbers
Tubing stripping rubbers are made from durable rubber with strong resistance to oils and abrasion. They can be pulled or run-in with pressure still on the well while also stripping fluids off the tubing O.D. to provide a safer and cleaner job site.
The Best Rod Stripper Rubber Selection From Global EEE!
Browse our selection of Ratigan-Style, Redial & Morlang-ML Rod Stripper Rubbers. If you need a special size not shown on the site below, please contact us to talk in more detail about your oilfield application needs.
| | |
| --- | --- |
| Part No. | Size |
| E7RSW34545 | 3/4 Rod |
| E7RSW58545 | 7/8 Rod |
| | Rod Stripper Rubber |
| | Replacement Rubber For Petol Rod Wiper |
Dimensions are for reference only. Contact Global Elastomeric Products for details
| | |
| --- | --- |
| Part No. | Size |
| | 5 Hole Style |
Dimensions are for reference only. Contact Global Elastomeric Products for details
| | |
| --- | --- |
| Part No. | Size |
| E7RSRDO755459 | 3/4" Rod |
Dimensions are for reference only. Contact Global Elastomeric Products for details
| | |
| --- | --- |
| Part No. | Size |
| E7RSRDO755459 | 3/4" Rod |
| | 7/8" Rod |
Dimensions are for reference only. Contact Global Elastomeric Products for details
| | |
| --- | --- |
| Part No. | Size |
| E7MLFD545 | Flat Disk |
| | Top Guide |
Dimensions are for reference only. Contact Global Elastomeric Products for details