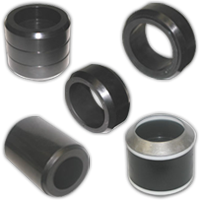 Baker Type
Baker-Type Packer Elements
Global Elastomeric Products makes many standard replacement packer elements as well as custom elements depending upon your specialized needs.
Custom Oilfield Valve Assembly Seals
If there is an element that you need that is not on our site, give us a call. Our in house design staff, knowledgeable sales staff, quality products, and fair prices are just some of the reasons why you should give Global EEE a call.



| | | | | | | |
| --- | --- | --- | --- | --- | --- | --- |
| Part No. | Size | Weight Range | O.D. | I.D. | Height | Type |
| E5PR11072029C17 | 7" | 20 - 29# | 5.75 | 4.115 | 2.23 | 3 PC. Element - PR110 - Center |
| E5PR11072029E19 | 7" | 20 - 29# | 5.75 | 4.115 | 1.73 | 3 PC. Element - PR110 - End |
| E5858BLSPE47 | 8 5/8" | | 7.40 | 5.59 | 6.65 | Baker Lok Set Single Element |
| E5PR161858E19 | 8 5/8" | 32 - 49# | 7.00 | 5.57 | 2.43 | 3 PC.  PR161 - End |
| E5PR162858C17 | 8 5/8" | 32 - 49# | 7.00 | 5.56 | 2.40 | 3 PC.  PR162 - Center |
| E5958BLSPE19 | 9 5/8" | - | | | | 3 PC. Element |
| E5958BLSPE47 | 9 5/8" | - | | | | Single Element |
Dimensions are for reference only. Contact Global Elastomeric Products for details
Part No.
Size
Weight Range
O.D.
I.D.
Height
Type
E5PR33045013C
4 1/2"
9.5 - 13.5#
Center Element
E5PR58045013E
4 1/2"
9.5 - 13.5#
End Element
E5RPR7555015C17
5 1/2"
13 - 15.5#
4.68
3.13
2.25
Baker Type "R"
PR075 - Center
E5RPR8155015E19
5 1/2
13 - 15.5#
4.68
3.13
2.65
Baker Type "R"
PR081- End
E5RPR4655023E
5 1/2"
15.5 - 23#
End Element
E5RPR4755023C
5 1/2"
15 - 23#
4.39
3.13
2.18
Baker Type "R"
PR047 - Center
E5RPR9470020E
7"
17 - 20#
6.12
4.115
2.57
Baker Type "R"
PR094 - End
E5RPR4070029E
7"
20 - 29#
5.75
4.115
2.58
Baker Type "R"
End - PR040
E5RPR4170029C
7"
20 - 29#
5.75
4.115
2.36
Baker Type "R"
Center - PR041
E5PR161858E
8 5/8"
32-49#
End Element
E5PR1628558C
8 5/8"
32-49#
Center Element
Dimensions are for reference only. Contact Global Elastomeric Products for details
| | | | | | | |
| --- | --- | --- | --- | --- | --- | --- |
| Part No. | Size | WT/FT | O.D. | I.D. | Height | Type |
| E5PR13272029 | 7" | 20 - 29# | 5.75 | 4.125 | 2.63 | Baker Full Bore PR132 |
Dimensions are for reference only. Contact Global Elastomeric Products for details
| | | | | | |
| --- | --- | --- | --- | --- | --- |
| Part No. | Size | O.D. | I.D. | Height | Type |
| E5HB1550EPE28 | 5 1/2" | 4.49 | 3.10 | 3.52 | Element |
| E5HB178EPE27 | 7" | 5.95 | 4.10 | 3.68 | 7" X 4.00" |
| E5HB1700EPE28 | 7" | 5.95 | 4.46 | 3.68 | 7" X 4.50" |
Dimensions are for reference only. Contact Global Elastomeric Products for details
| | | | | | | |
| --- | --- | --- | --- | --- | --- | --- |
| Part No. | Size | Weight Range | O.D. | I.D. | Height | Type |
| E9188855GADBAK | 5 1/2" | 13-15.5 | 4.66 | 2.50 | 5.37 | Type AD & G |
| E9188855G2ADBAK | 5 1/2" | 17 - 23# | 4.36 | 2.52 | 5.37 | Type AD & G |
| E9188870GADBAK | 7" | 20-29 | 5.78 | 3.00 | 5.62 | Type AD & G |
Dimensions are for reference only. Contact Global Elastomeric Products for details